On Friday, Feb 26th at 5pm EST we are pleased to invite you to join our webinar, Money Talks in 2021.
Click to download a Free Cheat Sheet that you can use to note down all the secrets you need to set yourself up for Financial Success!
2020 was financially challenging.
2021 doesn't have to be!
Sign up for the first and biggest LIVE webinar as we bring to you industry experts like David Harris, Amy Tong, Angie Drinic and Karima Bapoo Mohamed to share their well-guarded secrets on how YOU can achieve Financial Success in 2021!
Speakers:
---
David Harris
CEO @Prosperident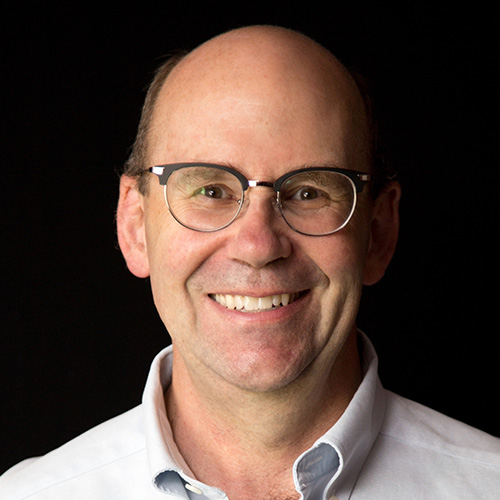 Under David's leadership, Prosperident has expanded over the past three decades to become a team of more than 20 highly specialized fraud investigators, forensic accountants, IT specialists, and support staff. David's vast investigative experience, coupled with his youth-filled misadventures, and his past military service have given him a unique insight into embezzlers' mindset and actions. He is passionate about sharing his wealth of knowledge with dentists and dental specialists. David believes that the best educational experiences are enhanced using humor. His entertaining and insightful presentation style has made him a favorite presenter at regional, national, and international dental conferences. David's professional qualifications include Certified Fraud Examiner, Certified in Financial Forensics, Forensic CPA, Chartered Professional Accountant, Certified Management Accountant, and Licensed Private Investigator.
Amy Tong
President @A.T. Financial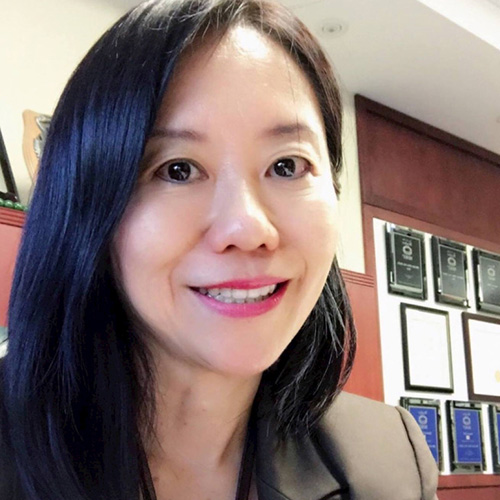 Amy Tong is a graduate of the University of Toronto with a degree in Commerce and is a Chartered Life Underwriter, a Chartered Financial Consultant, a Certified Health Insurance Specialist, and a Registered Critical Illness Specialist. She is a Million Dollar Round Table (MDRT) "Top of the Table" qualifier; an honourable accreditation that less than 1% of the world's life insurance and financial services professionals achieve. Amy demonstrates exceptional professional knowledge, ethical conduct, and outstanding client service. As the President of A.T. Financial Group and AWM Financial Services Inc., Amy has over 25 years of experience in the financial and insurance services industry and over 15 years expertise in providing financial solutions to professionals in the healthcare industry. Since 1997, Amy has been hosting different seminars for dentists, doctors and other healthcare professionals, in which she provides information on disability and critical illness insurance.
Angie Drinic & Karima Bapoo Mohamed

Director Central Canada; Director Western Canada @EDMS Engage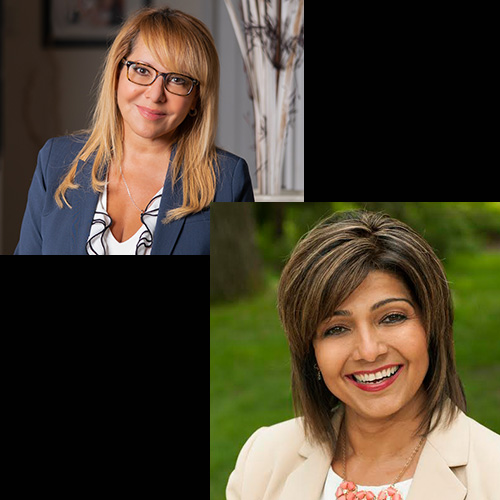 Angie brings over 40 years of experience in various areas of dentistry. With a BBA, a minor in marketing, a JD from Western State College of Law & a current enrolment in Cognitive Behavioural Therapy Certification. Angie combines her education & work experience as a Dental Coach & leader when creating seminars, courses & in-office training. She has led many seminars in the US and Canada. Her Stop Cancellations seminar has received rave reviews for her ability to convey her message in an engaging & informative manner.

Karima Bapoo Mohamed is a graduate of two faculties at the University of Alberta — Faculty of Medicine & Dentistry for Hygiene, & School of Business for an MBA. Karima's knowledge, abilities & unique skill sets span over diverse domains of clinical, business & leadership development; both locally & globally. Karima's innate ability to work with diverse teams to achieve measurable outcomes is one of her greatest assets in her newest role at EDMS Dental.
Click to download a Free Cheat Sheet that you can use to note down all the secrets you need to set yourself up for Financial Success!