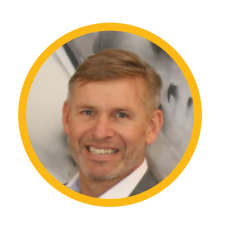 Peter Evans
Founder and CEO
Lifetime entrepreneur and seasoned veteran of Information Technology, Peter Evans draws on more than 30 years of experience with Oracle RDBMS/ERP and BI Analytics.
Seeing the growth of multi-clinic ownership in the dental industry, Peter recognized a void in the business system offerings for Dental ownership. Working with several DSOs, dentists and major dental market players, Peter validated the opportunity and founded EDMS in 2013.
When not working Peter is passionate about Ice Hockey and is both a Nationally Certified Coach and Referee, skills that come in handy when building teams and managing growth.
peter.evans@edmsdental.com
Rob Saric
Director of Products
Rob has over 15 years of technical leadership and sales experience, and has worked with Fortune 500 companies, founded multiple startups and is considered a seasoned leader, technologist and business strategist.
As a relentlessly resourceful entrepreneur, Rob is responsible for designing and building EDMS systems and managing the strategic direction of the technical roadmap.
Rob is skilled in systems thinking, machine learning, software development, remote team collaboration, mobile product design, and solving difficult technical and business challenges with resource constraints.
Rob has a educational background in Engineering Physics and Business Management and has successfully completed professional development certificates from Dale Carnegie Institute and Harvard Business School.
Gina Ellis
Director of Business Development USA
Gina Ellis is our Director of Business Development for the USA. She joins the EDMS team to develop our go-to-market strategy and increase our footprint beyond the Canadian borders.
Gina is a sales professional with over 10 years experience in direct and enterprise sales. She has a background in the US Healthcare & Dental markets and technology, bringing a unique combination of skills and knowledge to EDMS' USA business development strategies.
Gina is based in the suburbs of Philadelphia, PA. In her spare time you can find Gina teaching BODYCOMBAT at her local YMCA, watching her son play lacrosse or at meetings where she serves her community on Borough Council as an elected official.
gina.ellis@edmsdental.com
Steven Lowrie
Director of Software
Development
Steven has a degree in Software Engineering and Business Management and is responsible for managing the software development initiatives for EDMS Dentallytics and related product lines.
With over 15 years of both software engineering and software operations experience, Steven will spearhead the development and deployment of our Enterprise SaaS platforms.
Steven has an unquenchable thirst to understand the logic of everything around him and his insatiable and limitless curiosity allows him to be comfortable pursuing the unknown.
Ogunsanya (Victor) Oluwole
Director of Analytics
Victor designed the integrated systems used by EDMS to populate its data warehouse. A business intelligence expert, he creates the algorithms that mine all data on the EDMS platform.
He brings over 15 years of experience in various IT capabilities as a programmer, systems architect and data analyst. He has developed software solutions for businesses located in Africa, Europe and Canada.
Victor completed his Masters in Applied statistics and Market Analysis from Belgium and holds a PhD in computer science from Queen Mary University, UK.
Chris Dinardo
Customer Success Lead
Chris has a strong background in MySQL and MS Server and takes care of database management. He is the first contact for our clients as he manages day-to-day operations of data integration, ensuring the cloud infrastructure is optimal and efficient.
Chris completed a Diploma in Computer Programming from Algonquin College. He is also a guru of video game technology.
Nate oversees EDMS' back-end software development and server management. Nate's team is responsible for designing and implementing the technical architecture that EDMS systems run on. From the Windows based systems that reside on client systems to the cloud based data management and reporting systems they constantly resolve technical issues and refactor existing applications to ensure efficiency of operations and complete security of all EDMS systems.
Nate is passionate about digital security and takes your data security very, very seriously.