(Series by Peter Evans)
I am an avid sports car enthusiast and one of my greatest passions (for more years than I'd like to admit) is performance car driving. So when my team went to the Henry Schein DSO Education Forum in Las Vegas last month, I was thrilled to have EDMS co-sponsor a great event at Speed Vegas for many conference attendees. It was a great day at the track, and an opportunity to spend time with many of our Canadian customers as they enjoyed the experience of driving all kinds of high performance exotics: Ferraris, Lamborghinis, Audis, etc.
After the event, everyone got their top speed on a plaque, which was a cool takeaway. But much like other sexy measures such as revenue, that metric doesn't tell the whole tale.
Top speed shows how fast you were on the straightaway, but what about how deep you went into the corners? Were you able to hit the apex of the turns? How hard did you brake? Or what was your angle of entry in the turns, and hard was your angle of exit? These are the measurements you need to know If you go into a racing program, and this is what you need to know to truly perform on a race track. And believe me, it takes quite a while to identify and master these skills.
Professional racing is one of the biggest users of data collection points in the world. During races, Formula 1 transmits all this detailed data continually to their headquarters. This helps the driver to make adjustments to improve their performance during the entire race. What I know from talking to many owners of multiple dental clinics is that YOU need to collect data and have a dashboard of your own!
In dentistry, as more people get involved in more locations in a growing dental support organization, the amount of data you need to collect and understand also grows. It's an essential activity because you need visibility into what's going on inside your business. Putting in an infrastructure that allows you to absorb this information and apply it in your decision making means you'll be more successful. Businesses who don't pay a steep price down the road as the complexity becomes overwhelming for their team to manage. At EDMS, we see this all this time.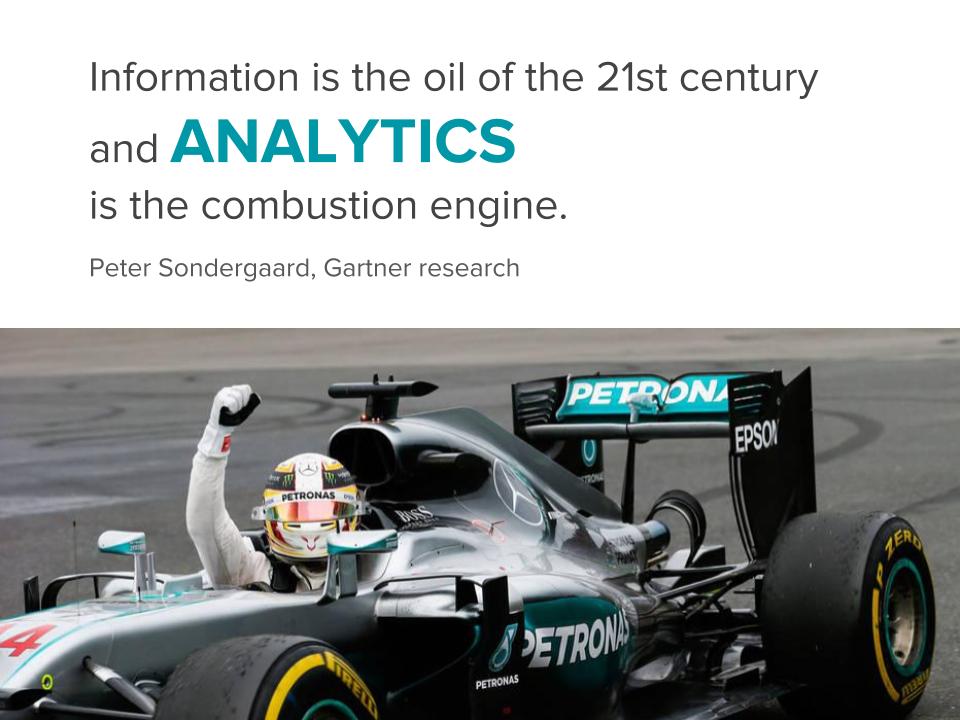 Peter Sondergaard of Gartner Research said: "Information is the oil of the 21st century and analytics is the combustion engine." It's not just having the information, but understanding what it means and what to do with it. So the detail you collect in your business has to be contextualized and matched with clear actions. If I see x, I need to do y. If you put a plan in place, you need to know if it's working!
Smart businesses understand their data is a competitive advantage. It's the application of that information that will make or break them. The largest national DSOs have an advantage here with size, resourcing, scales of economy, etc. but sheer size won't do it alone. The data you collect should all be about driving your business forward and providing a clear standard of care for all patients.
Peter Evans is CEO/Founder of EDMS Dental. See his next blog post for Part II in this series on 'Using Data to Drive Your Dental Business'. To reach Peter directly email peter.evans@edmsdental.com.